Just Out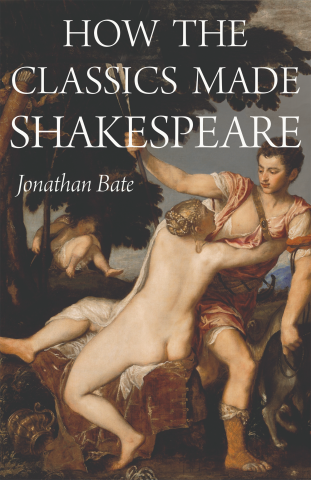 Jonathan Bate. How the Classics Made Shakespeare. Princeton: Princeton University Press, 2019. ISBN 9780691161600. 384pp. $24.95.
Ben Jonson famously accused Shakespeare of having "small Latin and less Greek." But he was exaggerating. Shakespeare was steeped in the classics. Shaped by his grammar school education in Roman literature, history, and rhetoric, he moved to London, a city that modeled itself on ancient Rome. He worked in a theatrical profession that had inherited the conventions and forms of classical drama, and he read deeply in Ovid, Virgil, and Seneca. In a book of extraordinary range, acclaimed literary critic and biographer Jonathan Bate, one of the world's leading authorities on Shakespeare, offers groundbreaking insights into how, perhaps more than any other influence, the classics made Shakespeare the writer he became.

Revealing in new depth the influence of Cicero and Horace on Shakespeare and finding new links between him and classical traditions, ranging from myths and magic to monuments and politics, Bate offers striking new readings of a wide array of the plays and poems. At the heart of the book is an argument that Shakespeare's supreme valuation of the force of imagination was honed by the classical tradition and designed as a defense of poetry and theater in a hostile world of emergent Puritanism.

Rounded off with a fascinating account of how Shakespeare became our modern classic and has ended up playing much the same role for us as the Greek and Roman classics did for him, How the Classics Made Shakespeare combines stylistic brilliance, accessibility, and scholarship, demonstrating why Jonathan Bate is one of our most eminent and readable literary critics.
More at: https://press.princeton.edu/titles/13461.html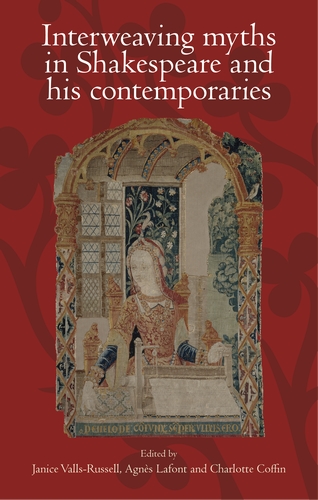 Janice Valls-Russell, Agnès Lafont and Charlotte Coffin (eds). Interweaving Myths in Shakespeare and his Contemporaries. Manchester: Manchester University Press, 2017. ISBN 978-1-5261-1768-7. 304pp. £75.00.
This volume proposes new insights into the uses of classical mythology by Shakespeare and his contemporaries, focusing on interweaving processes in early modern appropriations of myth. Its 11 essays show how early modern writing intertwines diverse myths and plays with variant versions of individual myths that derive from multiple classical sources, as well as medieval, Tudor and early modern retellings and translations. Works discussed include poems and plays by William Shakespeare, Christopher Marlowe and others. Essays concentrate on specific plays including The Merchant of Venice and Dido, Queen of Carthage, tracing interactions between myths, chronicles, the Bible and contemporary genres. Mythological figures are considered to demonstrate how the weaving together of sources deconstructs gendered representations. New meanings emerge from these readings, which open up methodological perspectives on multi-textuality, artistic appropriation and cultural hybridity.
Introduction: 'Ariachne's broken woof' - Janice Valls-Russell, Agnès Lafont and Charlotte Coffin
1. Shakespeare's mythological feuilletage: A methodological induction - Yves Peyré
2. The non-Ovidian Elizabethan epyllion: Thomas Watson, Christopher Marlowe, Richard Barnfield - Tania Demetriou
3. 'This realm is an empire': Tales of origins in medieval and early modern France and England - Dominique Goy-Blanquet
4. Trojan shadows in Shakespeare's King John - Janice Valls-Russell
5. Venetian Jasons, parti-coloured lambs and a tainted wether: Ovine tropes and the Golden Fleece in The Merchant of Venice - Atsuhiko Hirota
6. Fifty ways to kill your brother: Medea and the poetics of fratricide in early modern English literature - Katherine Heavey
7. 'She, whom Jove transported into Crete': Europa, between consent and rape - Gaëlle Ginestet
8. Subtle weavers, mythological interweavings and feminine political agency: Penelope and Arachne in early modern drama - Nathalie Rivère de Carles
9. Multi-layered conversations in Marlowe's Dido, Queen of Carthage - Agnès Lafont
10. Burlesque or neoplatonic? Popular or elite? The shifting value of classical mythology in Love's Mistress - Charlotte Coffin
11. Pygmalion, once and future myth: Instead of a conclusion - Ruth Morse
Index
More at: http://www.manchesteruniversitypress.co.uk/9781526117687/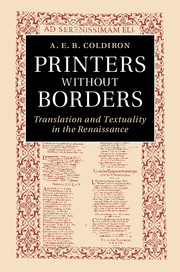 A. E. B. Coldiron. Printers Without Borders: Translation and Textuality in the Renaissance. Cambridge: Cambridge University Press, 2015. ISBN 9781107073173. 339pp. £65.00.
"The first book printed in English was not printed in England" and it was not an original English text: William Caxton's Recuyell of the Historyes of Troye, printed in Bruges in 1473, was an "englishing" of the Burgundian author Raoul Lefèvre's Recoeil, itself a medieval mediation of a foundational myth, the history of Troy, which enjoyed great popularity in Tudor, Elizabethan and Jacobean literature, political rhetoric and royal dynastic discourses. Caxton's translation, repeatedly reprinted during the 15th and 16th centuries, contributed to fashioning early modern reception of the myth. A. E. B. Coldiron investigates the continental dimensions of this Englishing, and how printers and translators contributed to such forms of appropriation and acculturation, "performed by means of verbal translation and material-textual mediation. More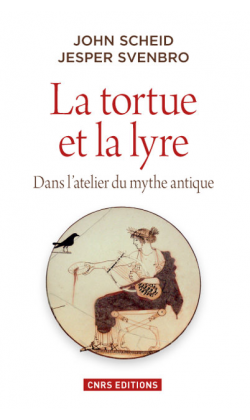 John Scheid and Jesper Svenbro. La tortue et la lyre: Dans l'atelier du mythe antique. Paris, CNRS Éditions, 2014. ISBN 978-2-271-07883-4. 229pp. €22.00.
How were Greek myths elaborated? How can we understand them? What critical tools can help us develop a pragmatic approach towards "a poetics of myth"? Such are some of the questions to which John Scheid and Jesper Svenbro offer new answers in their exploration of "the workshop" of the myths of Antiquity. Their inquiry, which started in their preceding book, Le métier de Zeus: Mythe du tissage et du tissu dans le monde gréco-romain (Paris: La Découverte, 1994; rep. Paris: Errance, 2003), is not only continued, but deepened and strengthened in La tortue et la lyre. Read a review on this website.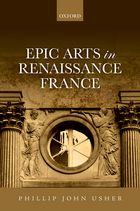 Phillip John Usher. Epic Arts in Renaissance France. Oxford, Oxford University Press, 2014. ISBN 978-0-19-968784-8. xii+254pp. £60.00 (hb).
This richly documented investigation into Renaissance France's 'intense relationship between epic and art' (205) engages epic texts in a dialogue with their visual sister arts: programmes are considered, such as the Fontainebleau gallery which glorified François Ier and epic texts such as Dolet's Fata, which refashion classical epic material. Ronsard's Franciade was 'part of both a national and a royal project and in constant dialogue with other arts' (159), inspiring a series of paintings by Dubreuil for Henri IV. This dialogue implies rapprochements, 'textualisations' but also differing perspectives, within the French arts but also between French and other European artists and poets. The author recreates visual ambiences, and documents how they would have appeared to sixteenth-century viewers, so as to help his readers glimpse 'the inside spaces as they would have been visible' (175) then and understand how this epic art would have been read.
---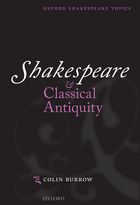 Colin Burrow. Shakespeare and Classical Antiquity. Oxford University Press, 2013. ISBN 978-0-19-968479-3. 296p. £16.99.
Shakespeare and Classical Antiquity shows the range, extent and variety of Shakespeare's responses to classical antiquity. Individual chapters on Virgil, Ovid, Classical Comedy, Seneca, and Plutarch show how Shakespeare's understanding of and use of classical authors, and of the classical past more generally, changed and developed in the course of his career. Read a review on this website.